Distinguished Alumni Service Awards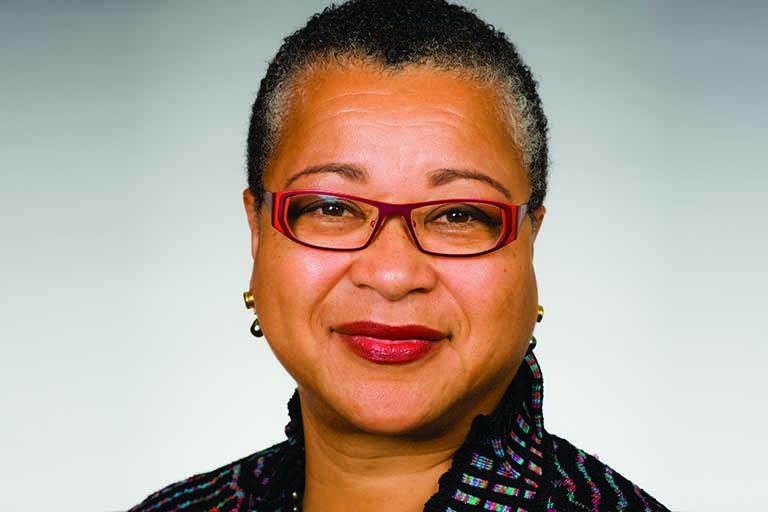 Marie Johns, BS'79, MPA'82
Johns is CEO for management consulting firm PPC-Leftwich. She serves on the O'Neill School's Dean's Council, the board of trustees at Howard University, and the board of directors for City First Bank. Amongst numerous other accolades, Indiana University recognized Johns with its highest honor, the Distinguished Alumni Service Award, in October 2021.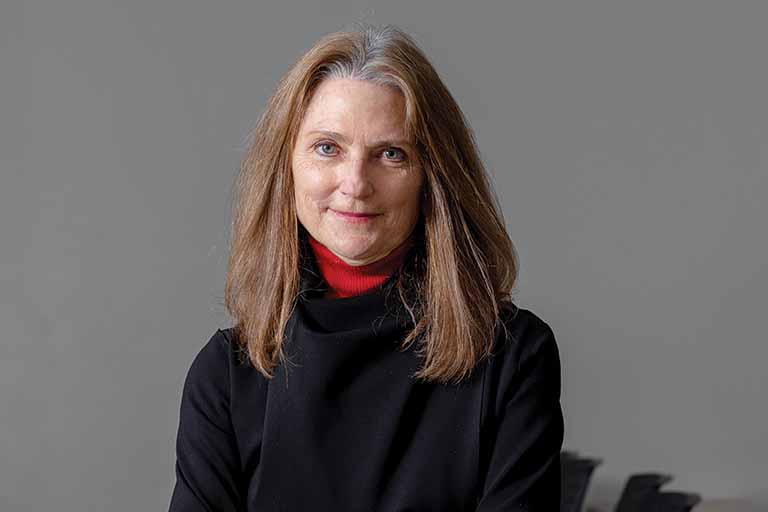 Jayma Meyer, BSPA'75
Meyer is counsel at Simpson Thacher & Barlett, a visiting clinical professor at IU teaching sports law and public policy and consulting on matters impacting student athletes, and serves as chair of the O'Neill School's Dean's Council. We are pleased to announce that she is a recipient of the 2022 Distinguished Alumni Service Award, the highest accolade reserved solely for IU alumni.
Class Notes
Devin L. Galloway, MSES'78, scientist emeritus with the U.S. Geological Survey, Earth Processes Science Division, was honored with the USGS 2021 Dallas Peck Outstanding Scientist Emeritus Award in November 2021.
Gary Jump, BS'75, currently lives in Itasca, Illinois, and volunteers with the Citizens Climate Lobby. He retired from the Northbrook Police Department in Illinois after 15 years. Prior to that, he served as director of rent assistance for the Housing Authority of Cook County. He has two sons and two granddaughters. He still remembers the very first meeting SPEA held in 1971 to introduce the new school to prospective students.
Greg Lindsay, MPA'76, met Dean Bonser in 1972 as SPEA was moving into the upper floors of the Poplars Hotel where he was employed as a reservationist. Determined to pursue a career in public service, Lindsay started at SPEA in the fall of 1974. With encouragement from Dean Bonser, Lindsay applied for a management internship with NASA and went to Washington DC for the summer of 1975. That internship led to a thirty-five year career at NASA headquarters where he worked on many of its major programs. He says, "I have always felt indebted to Dean Bonser for his encouragement and support during my time at SPEA. Even during the early years of the school, you could see that the vision was there and shared by the faculty and students." A few years ago, Lindsay and his wife returned to IU after many years. He was amazed at the new school building. "The students have no idea what it was like to go to the library in the basement of the Poplars. The Poplars did have an advantage though—you could walk out the back door of the library, cross the alley and walk into the back of Nicks. Not a bad place to be after a hard night of studying." After raising two sons in Northern Virginia and retiring from NASA in 2010, Lindsay and his wife moved to Leland, North Carolina, in 2015 and now enjoy the beaches, golf, tennis, and pickleball.
Perry Adair, MPA'74, retired in 2008 after 22 years as a senior foreign service officer, having served in Germany, Malaysia, Zaire, Denmark, Ghana, India and Jordan, as well as at State Department headquarters. Adair previously served as an auditor with the U.S. Air Force Audit Agency and as a management analyst with the U.S. General Accounting Office. He now lives in the Phoenix metro area with his wife Nancy (Hermetet), also an IU alum. They have one son and one grandson living in Berlin.
Jim Barlow, BS'83, retired as Carmel police chief in January 2021 after a 38-year career in the department. Throughout his career, Barlow worked as an investigator in both the Criminal Investigations Unit and Special Investigations Unit and served as the director of the Hamilton County Drug Task Force as well as the Commander of the Operations Division and Support Division. In January 2011, he was promoted to assistant chief of police before his appointment to chief in June 2017.

Dan Bortner, BS'87, has worked for the Indiana Department of Natural Resources for 17 years. Bortner is the longest-serving Indiana State Parks director in the agency's history and served as president of the National Association of State Park Directors. In 2020, Bortner was promoted to director of the Indiana Department of Natural Resources and continues to serve Hoosiers in this Cabinet-level position.

Amy Kennedy-Reynolds, MPA'85, received NASA's Exceptional Achievement Medal, an honor bestowed on those who make significant improvement in operations, efficiency, service, financial savings, science, or technology which directly contribute to the mission of NASA. Kennedy-Reynolds retired in December 2021 after more than 35 years with the organization, most recently as the CIO's executive officer and change management lead for the Agency's Mission Support Future Architecture Program.

Colonel Kirk White, BS'84, retired from the Indiana National Guard after 30 years of service and an extended deployment to the Kingdom of Jordan in 2020. He returned to the IU administrative staff as assistant vice president for engagement and was named vice provost for external affairs for the Bloomington campus in 2021 and has served as co-chair of the campus COVID-19 Response Unit during the pandemic.
Yulia Petrossian Boyle, MPA'99, was appointed to chair of the FIPP, a global trade association that works to improve all aspects of the media content industry through the sharing of knowledge, mutual cooperation, and strategic partnerships. Boyle is senior vice president for International Media Partnerships and Image Collection at National Geographic Partners.

Thomas Carroll, MPA'96, became city manager for Cambridge, Maryland, in April 2022. Carroll most recently served as village manager in Silverton, Ohio, where he led economic development projects that increased Silverton's income tax base by 50%, adding 18% to the property tax base, and reversed 50 years of population loss.

The Lake Monroe Water Fund hired Michelle (Miller) Cohen, MSES'96, as its executive director. Cohen brings 12 years of experience heading other environmental entities to the role, first as the Brown County Solid Waste Management district manager, and subsequently as the executive director for the Indiana Recycling Coalition (now dubbed Circular Indiana). The Lake Monroe Water Fund leverages resources for projects that protect Lake Monroe, ensuring that it provides a plentiful drinking water supply, a world-class recreational destination, and critical wildlife habitat for years to come. The Lake Monroe Water Fund is the first water fund in Indiana, and only one of approximately 48 worldwide.

PNC Bank named Jason Eckerle, BS'91, regional president for Central and Southern Indiana in March 2022. A lifelong Indianapolis native, Eckerle has helped champion PNC's local philanthropic efforts through his volunteerism for PNC Grow Up Great® and helped elevate diversity and inclusion initiatives in the market.

Allen Guon, BS'92, MSES-JD'97, is an attorney at Cozen O'Connor in Chicago. He contributed a chapter to the 2022 edition of Business Bankruptcy Practice, an annual publication by the Illinois Institute of Continuing Education.

Nicole Lee, BS'96, joined Chicago's City Council as 11th Ward alderwoman in March 2022. Lee is the first Asian American woman to serve on the council.
Christina "Christy" Campoll, MPA'06, resides in Dayton, Ohio, and is a consultant with RLS & Associates, Inc., specializing in public transit.

Dawne DiOrio, MPA'01, retired after nearly 21 years as the public health advisor for the Centers for Disease Control and Prevention in May 2022. She will continue adjunct teaching for the O'Neill School and the School of Public Health in her retirement.

Jaelith Hall-Rivera, MPA-MSES'01, accepted the permanent appointment as deputy chief of state and private forestry in the U.S. Department of Agriculture's Forest Service in September 2021. In this role she provides executive oversight of the agency's multi-billion-dollar wildland fire program, the agency's programs that serve state and private landowners, the Office of Tribal Relations, the Forest Health Program, conservation education, and the Grey Towers National Historic Monument. Hall-Rivera is a values-driven, relationship-focused executive leader prioritizing work on improving pay parity, work-life balance, and resilience for the agency's 11,000+ wildland firefighters; working together with partners to shape a vision to combat the nation's wildfire crisis in the next decade; and partnering with State Foresters in 59 states and territories to help conserve the nation's more than 500 million acres of state, tribal, private, and urban forests.

Publications across Florida have recently recognized attorney Jamie W. Karpman, BS'05, for her legal excellence and community leadership: Florida Trend Magazine's Legal Elite "Up and Comers" (2021), Daily Business Review's Florida Legal Awards "On the Rise" (2021), and Jacksonville Business Journal's "40 Under 40" (2022).

After nearly 13 years at the IU Center for Global Health, Megan Miller, MPA'06, relocated to Madison, Wisconsin, for her new role as administrative director of the Wisconsin Partnership Program at the University of Wisconsin-Madison School of Medicine and Public Health.

Deanna Oware, MPA'00, was named CFO of the Year by the Indianapolis Business Journal for her role with the Indiana Department of Workforce Development.

Abby Powell, MPA'06, joined the Springfield Sangamon Growth Alliance as business director. The position was created for Powell, who helped local businesses take advantage of TIF district benefits and money for eight years with the city of Springfield, Illinois, as the TIF district administrator.
Portia Bailey-Bernard, BS'13, and Matt Impink, MPA'15, were named 2021 winners of Indy's Best and Brightest under the categories of government and education and nonprofit, respectively.

Megan Betz, MPA'13, took over the reigns as president and CEO of Mother Hubbard's Cupboard in December 2021. The role was previously held by Amanda Nickey, MPA'10, who spent nearly 12 years at the organization.

Steve Broniarczyk, MCJPS'13, received the Army's Public Service Commendation Medal for his work as a member of the U.S. Department of Homeland Security team supporting the resettlement of 7,201 Afghan guests at Camp Atterbury, Indiana.

Jennifer Burrell, BS'19, joined the City of Bloomington's Department of Planning and Transportation as a zoning compliance planner. She first became involved in local government work in 2017 and worked with the Department of Parks and Recreation throughout her undergraduate career. Burrell has spent the past year working and serving the greater IU community at the Indiana University Foundation, and she is now excited to further serve her hometown.

Brandon Dennison, MPA'11, received the 2021 Network of Schools of Public Policy, Affairs, and Administration Alumni Spotlight Award. Born and raised in West Virginia, Dennison is the executive director of Coalfield Development, a nonprofit dedicated to rebuilding the Appalachian economy from the ground up through investing in employment-based social enterprises, facilitating development opportunities for people facing barriers to employment, and leading community-based revitalization projects.

Brittany D. Friesner, MA'11, co-authored Indiana University Cinema: The New Model, published by IU Press in September 2021. Friesner is founding associate director for Indiana University Cinema, having joined the cinema staff in September 2013. She served as the cinema's acting director in academic year 2015-16 and as interim director from October 2020 to September 2021 and resumed her role as associate director in October 2021. Friesner sits on the Service Corps Advisory Board for the O'Neill School and the Campus Advisory Board for the Eskenazi School of Art, Architecture + Design.

After five years in business development with the Indiana Economic Development Corporation, Alex Miller, BS'13, joined KSM Location Advisors in Indianapolis to assist companies with site selection, comparative analysis, and credit and incentive procurement.

Ivan "David" Neef, MPA'18, was named to the Top 20 under 40 in Acadiana, Louisiana, for his work with the Kathleen Babineaux Blanco Public Policy Center at the University of Louisiana at Lafayette.

After her time at Indiana University, Catherine (Calvert) Pierce, BS'13, used her degree in arts management to work in Nashville as a concert promoter. Pierce received her MBA from Vanderbilt in 2018 and moved to Dallas to pursue a career in concert sponsorship with Live Nation, allowing her to travel the country to evaluate sponsorship programs across the organization's portfolio of venues. Above all, she loves being home with her husband, daughter, and two dogs.

Choosing the dual MPA-MSES degree program "led to my dream job working in Air Enforcement for the EPA in R6, Dallas," said Jamie (Lewis) Salabogi, MPA-MSES'12. "Not only did I really enjoy my classes and studies, but I also made so many great memories with the Returned Peace Corps Volunteers and in my time participating in the summer Kenya program!"

Anna Walker, MA'10, has dedicated her professional life to art and artists and is widely admired locally and nationally both as a curator and thought leader. She joined the Houston-based Lawndale Arts Center as executive director in November 2021 after serving as assistant curator of decorative arts, craft, and design for the Museum of Fine Arts, Houston, and the Windgate Foundation Curatorial Fellow for Contemporary Craft.

Kelly Wallace, MPA-MA'16, serves as the development director for the Texas Medical Association Foundation in Austin.
Derek Corbin, MPA-MSES'20, moved to Washington, D.C., after graduating from the dual degree program. His studies directly led him to the Environmental Protection Agency, where he now works to regulate herbicides.

Amber Rose Greaney, BS'20, MPA'21, is a project manager at the Indianapolis Office of Sustainability. She graduated from O'Neill with an MPA in Environmental Policy and Sustainability in 2021. O'Neill welcomed her back in spring 2022 as an adjunct faculty member teaching V322 Sustainable Management.