By Colin Kulpa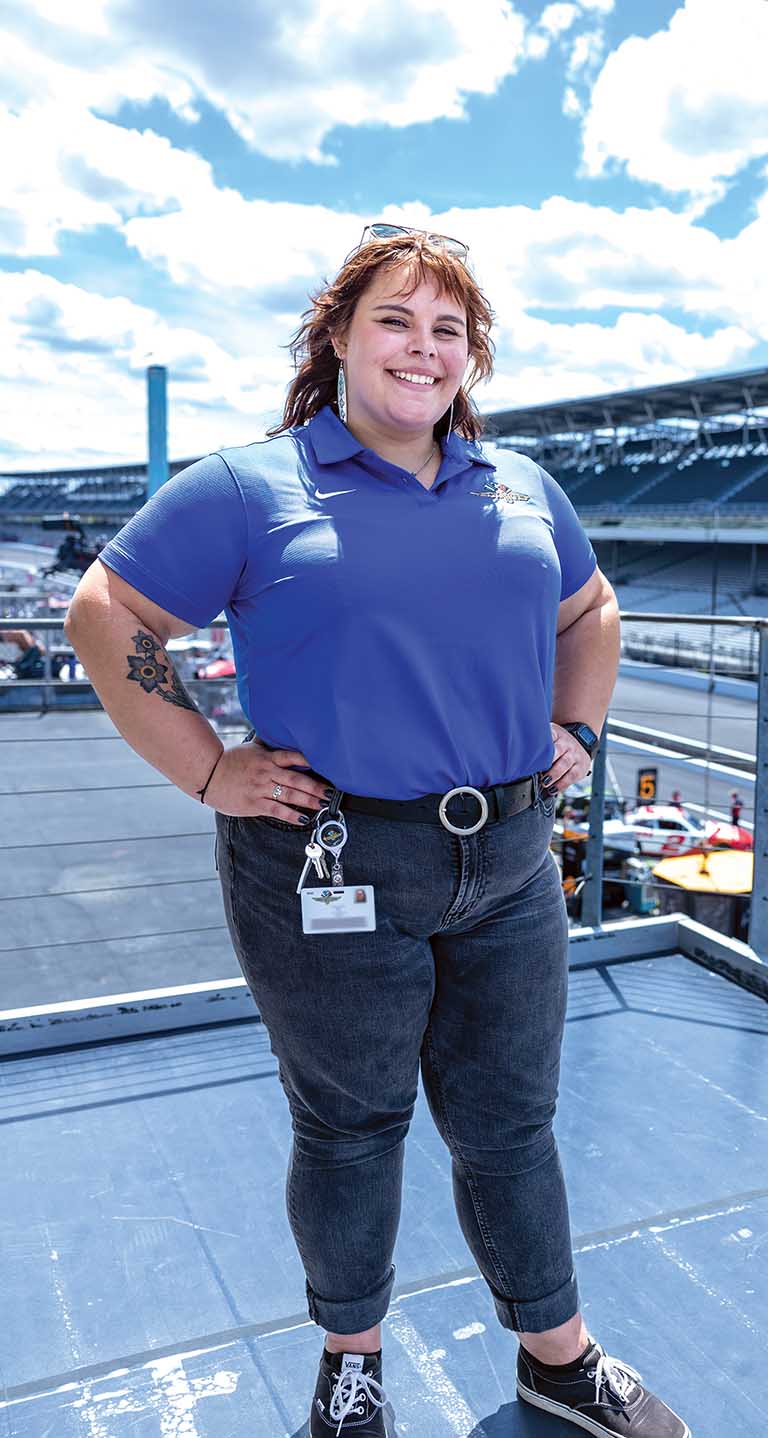 When summer comes around, many O'Neill students look for ways they can get life-changing, hands-on experience in their career fields. Whether that means contributing to international business decisions, shaping a city's sustainability plans, or making the "Greatest Spectacle in Racing" cleaner and greener, O'Neill students spend their summers learning and leading across Indiana and the world.
Mary Claire Noble
A graduate student in the MPA-MSES program, Mary Claire Noble was a McKinney Climate Fellow at Penske Entertainment, the parent company of the Indianapolis Motor Speedway (IMS) and the IndyCar Series.
"I'm an IndyCar fan, myself," Noble said. "I grew up in Indianapolis, and the month of May was like Christmas for my family. … I saw that IMS was an option and they wanted to do sustainability, and I was like, 'what an opportunity to combine my passion and put skills that I know to work.'"
Noble's projects included tracking emissions data for IndyCar and IMS. IndyCar analyzes the data, which is also submitted to the Council for Responsible Sport. The organization awards ratings to sporting events that meet social and environmental responsibility goals, including the men's and women's NCAA Final Four and the MLB All-Star Game.
IMS achieved a silver rating for the 2021 Indianapolis 500.
"It's tying together those things that are so important to McKinney—sustainability, as well as equity and diversity," Noble said. "The Council for Responsible Sport really makes sure that you're checking all of those boxes, and you're becoming an accessible place for everyone, no matter where their background is."
Noble helped to shape the future of sustainability in IndyCar and at IMS with a procurement policy. IMS also donated nearly 4,000 pounds of food to Indianapolis-area food banks during the month of May through a food waste diversion program.
The team worked with Shell to develop a 100% renewable racing fuel, made from food waste like sugar cane, which IndyCar will use in 2023. Additionally, the team worked with Firestone to develop a tire made of more sustainable guayule rubber, which made its competition debut in August at the Music City Grand Prix in Nashville, Tennessee.
As a fan, it's important for Noble to help IndyCar and IMS move toward a sustainable future.
"It was one of those things of, 'what can I do here to help their mission of being a greener place?'" said Noble. "And in setting that standard of being the best, most sustainable venue, and being the most sustainable sport? What does that look like? And how can they get there?"
Barbara Dale

For Barbara Dale, also an MPA-MSES student, the O'Neill School's Greater Good Internship Fund supported her work as a McKinney Fellow for the city of South Bend, Indiana. As part of the Resilience Cohort through the Environmental Resilience Institute, she is helping South Bend plan for a sustainable future.
The Greater Good Internship Fund helps students who accept an unpaid or lowpaying internship. Up to 25 scholarships of $1,200 are awarded each summer to students at O'Neill. Her fellowship has been extended from a 10-week summer internship through December 2022, giving her more time to work on projects she started this summer.
In South Bend, Dale works on climate action planning, communications, and finance. "My original focus was updating the city's Climate Action Plan," said Dale. "However, South Bend's 20-year comprehensive plan is also being updated. We are working beyond our individual department's plan to weave environmental justice principles into the comprehensive plan and across city initiatives."
Dale updated South Bend's Climate Action Plan website to grow the program and climate education, collected public feedback through a survey she designed, and researched funding opportunities for initiatives like energy efficiency and solar energy.
"Looking forward, how do we sustain the sustainability department, financially?" Dale said. "I'm looking into federal grants that are coming down the pike from the infrastructure bill, for example, and trying to do some internal organizing to find good fits for the city's needs."
Dale completed a summer course in finance and budgeting, which helped her combine O'Neill academic experience with hands-on work in a city government. Her final project for the class enumerated costs and benefits associated with urban tree canopy in South Bend, and this document will help inform future forestry planning efforts in the city.
Benjamin Blythe
Benjamin Blythe, working toward an MPA, received Greater Good funding to take an internship with the U.S. Association of Southeast Asian Nations Business Council (ASEAN).
U.S. ASEAN facilitates U.S. business in Southeast Asian countries including Thailand and Singapore and helps advocate for the 10 countries it represents to over 160 major U.S. companies. Blythe worked with multiple portfolios during his time with the council, including those covering ASEAN and Singapore, as well as the energy and sustainability industries.
"We just released an annual update that I helped draft regarding the changes in the cabinet, which were overall pretty minor, but had big implications for Singapore's future leadership, their future prime minister, as well as their kind of political position, which is hedging more towards maintaining stability, as the globe really faces a continued era of instability," said Blythe.
He said he appreciates how the MPA program has guided his ability to work in the policy field and how his internship helped him improve his policy writing skills and experience.
"It will continue to not only improve my writing and develop it for my career, but also continue to shape my interest in how I analyze political issues beyond the high-flying rhetoric that you get when you work in international policy," Blythe said. "You're looking at mechanisms, you're looking at structures, and how the text of not just the summaries, but also the actual laws and those analyses impact the implementation. I give a lot of credit to O'Neill for making sure that's a focus."
Blythe sees himself continuing to work in international affairs in the public sector after he completes his O'Neill degree, with a particular focus on international public-private sector interaction in East Asia and the Indo-Pacific region.