Thriving Communities, Thriving State
IU's Public Policy Institute's new project examines Indiana communities ... From big metropolitan areas to small rural towns, Indiana is home to hundreds of them—each with its own challenges.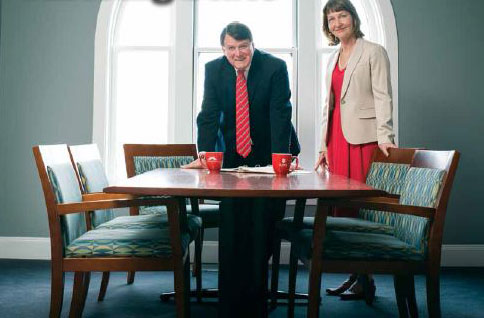 Shaping policies to help Hoosiers from all the disparate areas of the state is no small feat. That's why the Indiana University Public Policy Institute, a research arm within SPEA, is taking a close look at Indiana communities to give recommendations to state and local decision-makers.
Over a two-year period, Thriving Communities, Thriving State will study the issues affecting rural, mid-sized and urban communities, each with its own commission made up of community leaders from the public, private and nonprofit sectors (including three city mayors and a farmer from Windfall, Indiana). The project ends on December 16, 2016, the state's 200th birthday.
Kathy Davis, former Indiana lieutenant governor, and Randall T. Shepard, former chief justice of the Indiana Supreme Court, are serving as the project's co-chairs. Institute senior policy analysts Drew Klacik, John Marron, and Jamie Palmer are commission coordinators.
After holding public meetings in Gary, Evansville, Indianapolis, Columbus, and Fort Wayne, the commissions will convene expert panels and discuss the topics facing Indiana communities: workforce development, education, local government finance, health, and infrastructure.
"This is the first initiative to examine Indiana's future from the perspectives of urban, mid-sized, and rural/ small town communities," says Mark Lawrance, director of the Institute. "Residents and community leaders have told us what matters most to them, whether it's better broadband access, improving transportation options, or better connecting skilled workforce with job opportunities. In working with our commissioners, we will compile what we've heard and what our research tells us into recommendations to help Indiana communities succeed."
Often, our progress, our priorities, and our needs are different depending on where we live. Tailoring our policies to address those differences makes Indiana stonger.

— Kathy Davis
The commissioners will also continue to identify policies that help or hinder communities, where policy gaps exist, and what changes are needed to better support communities.
"To achieve economic prosperity and a high quality of life in Indiana, we track and analyze our progress in areas such as education, income, health, and the environment," Davis says. "Often, our progress, our priorities, and our needs are different depending on where we live. Tailoring our policies to address those differences makes Indiana stronger."
Thriving Communities, Thriving State is the second project of the Institute's Policy Choices initiative. The first, called Policy Choices for Indiana's Future, was launched in January 2010 and analyzed the issues facing the state's next legislature and governor.
Marron and Zach Mulholland, a former research analyst at the Institute, led research for the first publication to come out of the Thriving Communities project. The publication, Indiana in Perspective, presents summary data based on the three community types.
"Most of Indiana is going to continue to experience population growth over the next 30 years," Marron says. "Those communities offering the highest quality of life within a region are likely to receive a greater share of that growth."
Framing the changing demographics and economic realities of Indiana within a place-based context will provide a clearer view for policymakers, while preserving the places and qualities that make Indiana unique.
"The choices we make always intertwine," Shepard says. "Our aspiration is to inform the choices that Indiana makes about its future."
Go to  Thriving Communities, Thriving State project