Taking Center Stage
Bloomington to break ground on Paul H. O'Neill Graduate Center
By Emily Batman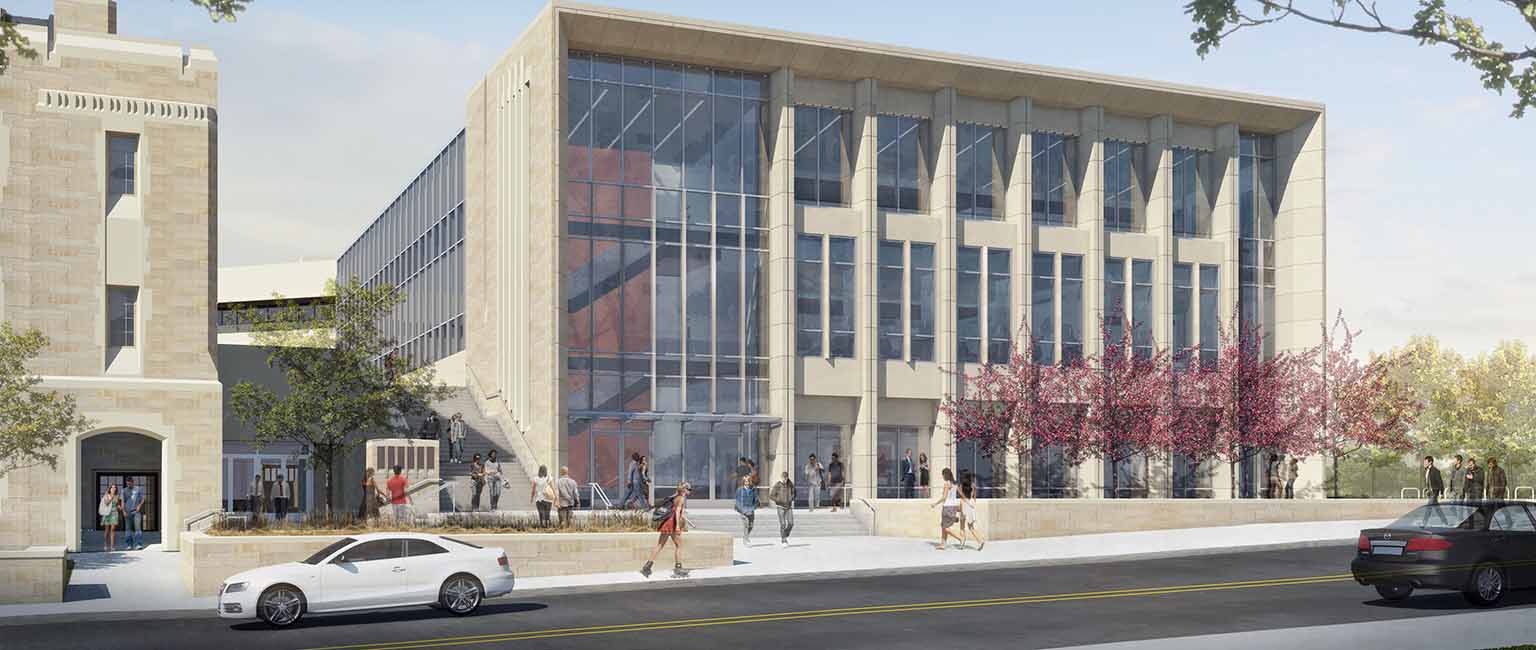 Since the SPEA building was constructed in 1982, students have been congregating in the Tavis Smiley Atrium to catch up on their studies, meet with friends and professors, and collaborate on group projects until the early morning hours. They still enjoy sitting outside in the SPEA plaza on sunny spring days, and they still race to early morning classes with coffee they purchased in the SPEA café. But a lot has changed.
We now have more professors, including nearly 50 new full-time faculty members hired in just the past five years.
We have more students. SPEA's combined enrollment at the graduate and undergraduate levels has doubled since the year 2000.
We offer more programs. Last year alone, SPEA added new undergraduate majors in law and public policy, human resources, and environmental and sustainability studies.
And soon, we will have more space.
Construction begins winter 2016
This winter, SPEA Bloomington will break ground on the Paul H. O'Neill Graduate Center. The new space, intended to house SPEA's top-ranked graduate programs, will expand the footprint of the existing SPEA building to extend out to Tenth Street. The graduate center will connect to the existing building by shared walkways.
The plans also include a renovation of the SPEA plaza, the outdoor courtyard area that separates the current SPEA building from the Kelley School of Business. The updated plaza will include outdoor seating and functional space for students to congregate. Construction is expected to be completed in spring 2017.
"I am honored that the graduate center will bear my name, providing a place to carry on the tradition of intellectual curiosity and excellence that I found at IU 50 years ago," O'Neill said. "The O'Neill Center is a place where the next generation of leaders can come together to exchange ideas, challenge one another, and collaboratively generate solutions that make the world a better place."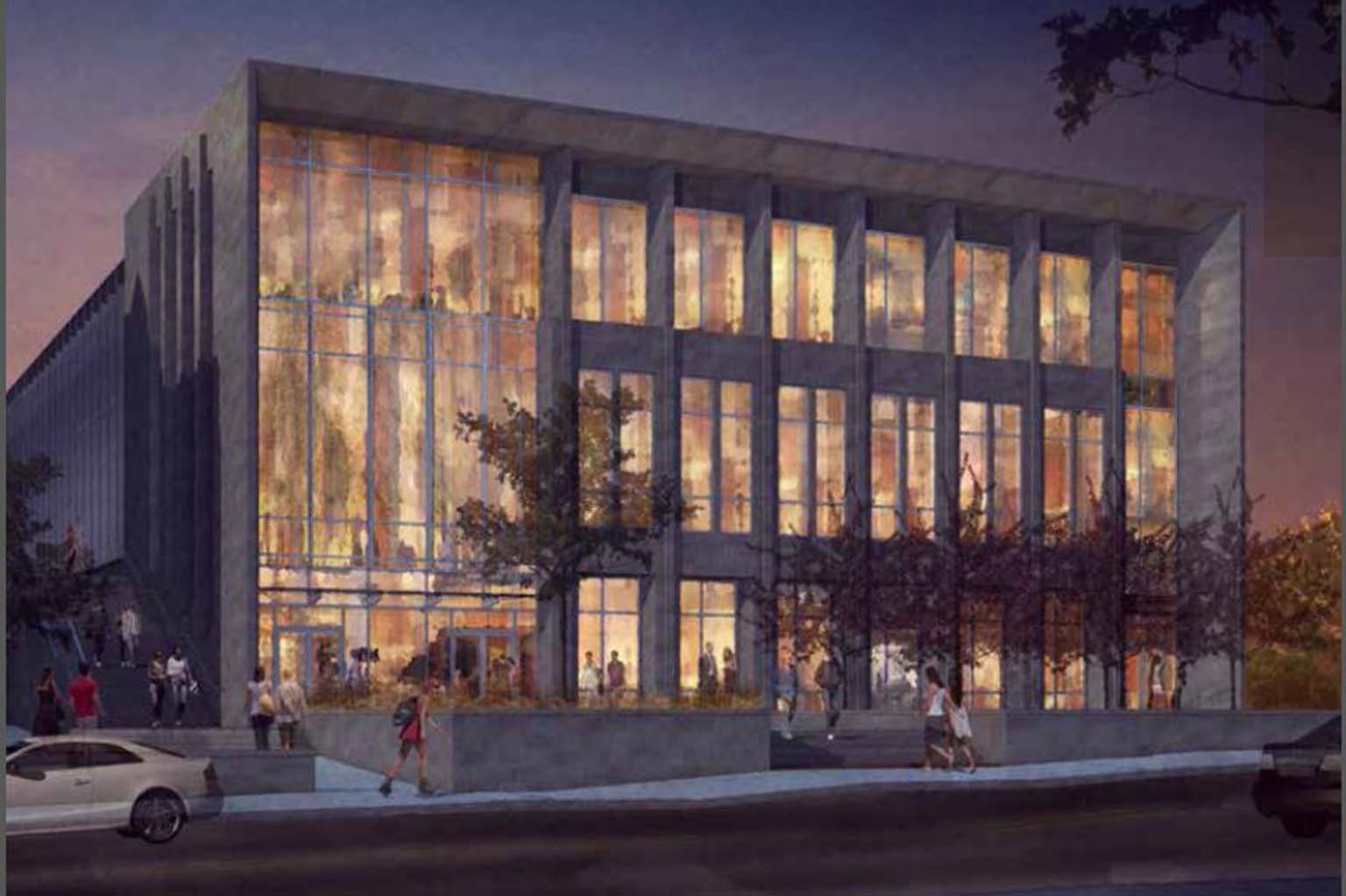 An open, transparent design
The design of the building's exterior will be handled by the University Architect's Office. The facade will have more glass than limestone, differentiating it from the adjacent Hodge Hall Undergraduate Center at the Kelley School of Business, completed in fall 2014. SPEA's new multistory glass curtain window facing Tenth Street is a reflection of SPEA's commitment to transparency in public life.
Plans for the building's interior were designed with input from a committee that included faculty and professional staff from across the School. The three-story building will include 29,000 square feet of new space. Additionally, the 6,000 square feet connecting the current building to the graduate center will be renovated as part of the project.
The first floor of the O'Neill Center will include conference space, break-out rooms for study groups, and a new information commons area intended to be a gathering place to foster meaningful dialogue and collaborative research among our graduate students.
The second floor will have new classrooms equipped with leading-edge technology to host SPEA's core MPA classes. To determine how many new classrooms were needed, the building committee examined current classroom usage and found that three to five classrooms were needed for SPEA's graduate students at any given time. The floor will also have additional break-out rooms for study groups and an executive conference room overlooking Tenth Street.
The third floor will include an executive classroom and space for the Master's Program Office, which is currently housed in the second floor of the existing SPEA building.
"I love the open feel of the SPEA building. The atrium is noisy, but it gives you the illusion that you're surrounded by a lot of people, which is helpful motivation when you're studying late into the night," said Andrea Grabner, an accelerated MPA student concentrating in nonprofit management and international development. "But there's not enough space. Our information commons is mostly used by Kelley students, and even as a graduate student, I've had classes in Ballantine and Woodburn. SPEA students will really benefit from having a new graduate center."
Finding funding
The graduate center project is expected to cost $12 million, funded in part by a $3 million gift from IU alumnus and long-time SPEA supporter Paul O'Neill, the largest private donation in the School's history.
"We are grateful to Paul for all he has done for IU and for SPEA and we are immensely proud that his name will be on this graduate center," said SPEA Dean John D. Graham. "The O'Neill Center will be one of the jewels on the IU campus. It will attract bright scholars and students intent on following in Paul's footsteps to careers serving the greater good."
O'Neill received a Master in Public Affairs from Indiana University in 1966 and was awarded an honorary doctorate from the University in 2014. In 1967, he joined the U.S. Office of Management and Budget, serving as deputy director from 1974 to 1977. In addition to serving as Secretary of the Treasury under President George W. Bush, O'Neill held leadership positions in the business and nonprofit sectors. He was president of International Paper, chairman of the RAND Corp., and CEO of Alcoa.
An additional $1 million gift was given by David Wang, founding chairman of the SPEA Dean's Advisory Council and a retired International Paper Co. executive. "The nation has never faced as many major policy issues as it does now," Wang said. "SPEA students are going to be the much-needed experts at the city, state, and national levels of government. This gift is intended to help SPEA prepare those students for the tremendous challenges and opportunities that are ahead."
The remaining funding needed for the O'Neill Center will come from SPEA funds, campus funds, and private gifts. There are opportunities to name classrooms and other spaces in the O'Neill Graduate Center. Funding will be used for furnishings and technology in the center, and for top priority graduate program activities.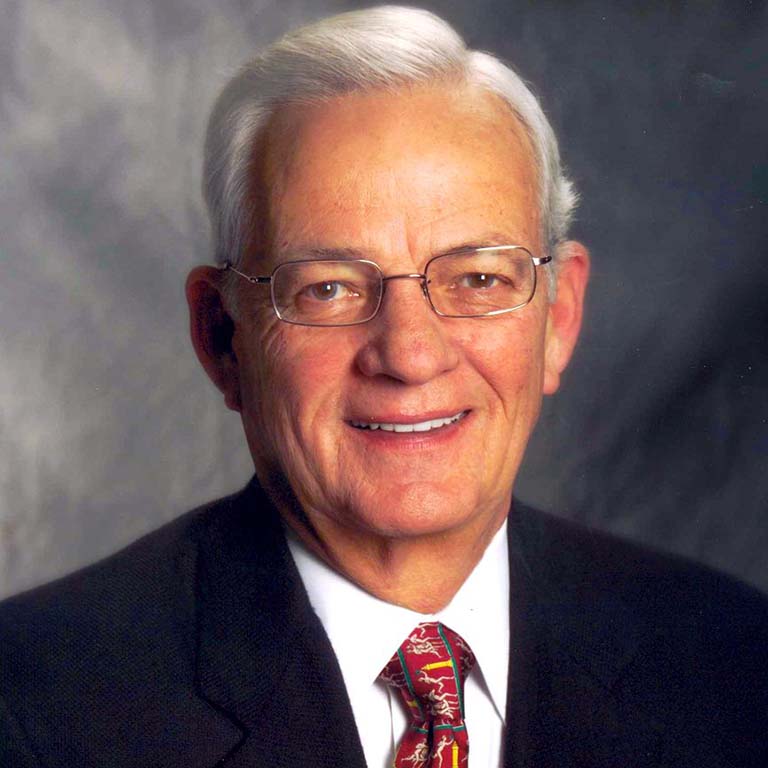 I am honored that the graduate center will bear my name, providing a place to carry on the tradition of intellectual curiosity and excellence that I found at IU 50 years ago.

— Paul O'Neill
Ready for students in 2017
The new building will be, at minimum, silver LEED certified, as rated by the U.S. Green Building Council.
"It will be a beautiful and functional building," said SPEA Bloomington Executive Associate Dean Michael McGuire. "Secretary O'Neill makes annual trips to Bloomington to speak with SPEA students. We eagerly await the day in 2017 when those visits take place in the O'Neill Center."
The existing SPEA building, located at 1315 East Tenth Street, includes 126,844 square feet of space and has five levels. The building will continue to serve SPEA's growing undergraduate population, as well as SPEA faculty and staff.
For more information about naming opportunities in the O'Neill Graduate Center, please contact Susan Johnson at (812) 856-4868 or by email at sumjohns@indiana.edu.